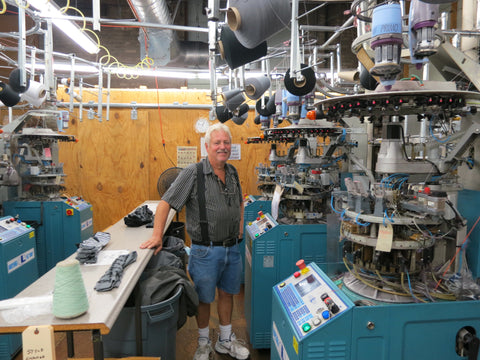 SOCKS MADE IN USA
THIS NIGHT socks are proudly made in America, of US-grown cotton. They are designed in America (in NY, where I live), they were developed and knit in my hometown mill in Reading, PA, and they are now knit at a wonderful, small, well-run mill in Catawba County, NC.
The picture above was taken in the mill in Reading (before it was closed by its new corporate owners), and it shows my friend and sock genius, Terry. Terry started working in a sock knitting mill when he was 16 and knows all there is to know about socks! He spent about two years working with me to get the composition and feel of THIS NIGHT socks just right. When I first started thinking about designing socks, I thought I would just be providing a surface design, but the owner of the sock mill, who became a mentor to me, asked me what I wanted the socks to be made of. I wasn't expecting to have to think about this, but it ended up being an amazing opportunity to create the sock of my dreams from scratch!
Socks don't seem that complicated, but there are lots of choices to be made: what kind of cotton, the weight of the cotton, the plaiting yarn (what gives socks their resilience), the width of the band, the strength of the elastic in the band (to name a few!). I am very grateful to have been able to get each element of the sock's construction just right before I even thought about the designs.
Much of what remains of the US hosiery industry is in North Carolina –– that's where THIS NIGHT's cotton is spun, where it is custom-dyed, and where THIS NIGHT socks are now knit, and there are generations of talented sock experts there. I'm really grateful that more people are thinking about where and how the things they buy are produced, and I'm so glad it's still possible to make wonderful socks in America!