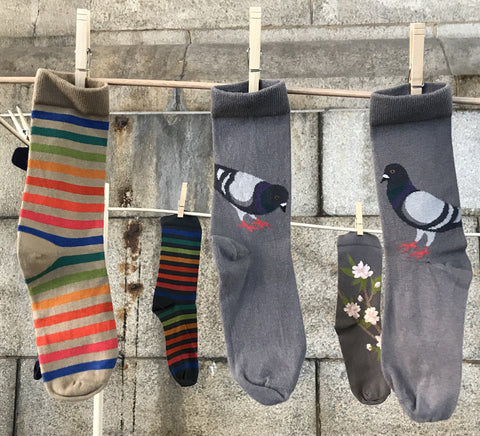 THIS NIGHT @ BROOKLYN FLEA Saturdays 10–5!
Well, as you can see, I have been neglecting this blog a bit. I don't think anyone reads it (not even my mom!), but I hope to change that with more frequent posts and hopefully a bit more to say. After a very long hiatus the spring, the Brooklyn Flea is back (at 80 Pearl Street in Dumbo), and I am so very grateful to have my little sock stand back there, too!
I was so happy to see all my fellow Flea vendors when we reopened back in mid-September, and it has been really nice to chat with returning customers and new folks! (I guess anyone reading this might be buying THIS NIGHT socks online, but it is always nice to have an opportunity to check them out in person – you will see that my enthusiasm for socks is unfeigned!) My stand is under the arch of the Manhattan Bridge, so there is the charming rumble of the subway every ten minutes, and I am located next to Louise Goods and Spartan Antiques (mid-century modern furniture) and across from my favorite purveyor of soap, Savannah Hope Studio.
The Flea's last outdoor day was supposed to be this Saturday, Halloween, but now it will be continuing every Saturday from 10am to 5pm as long as there are vendors and shoppers – I hope this continues at least through December!! If you're in the neighborhood, please stop by! :)